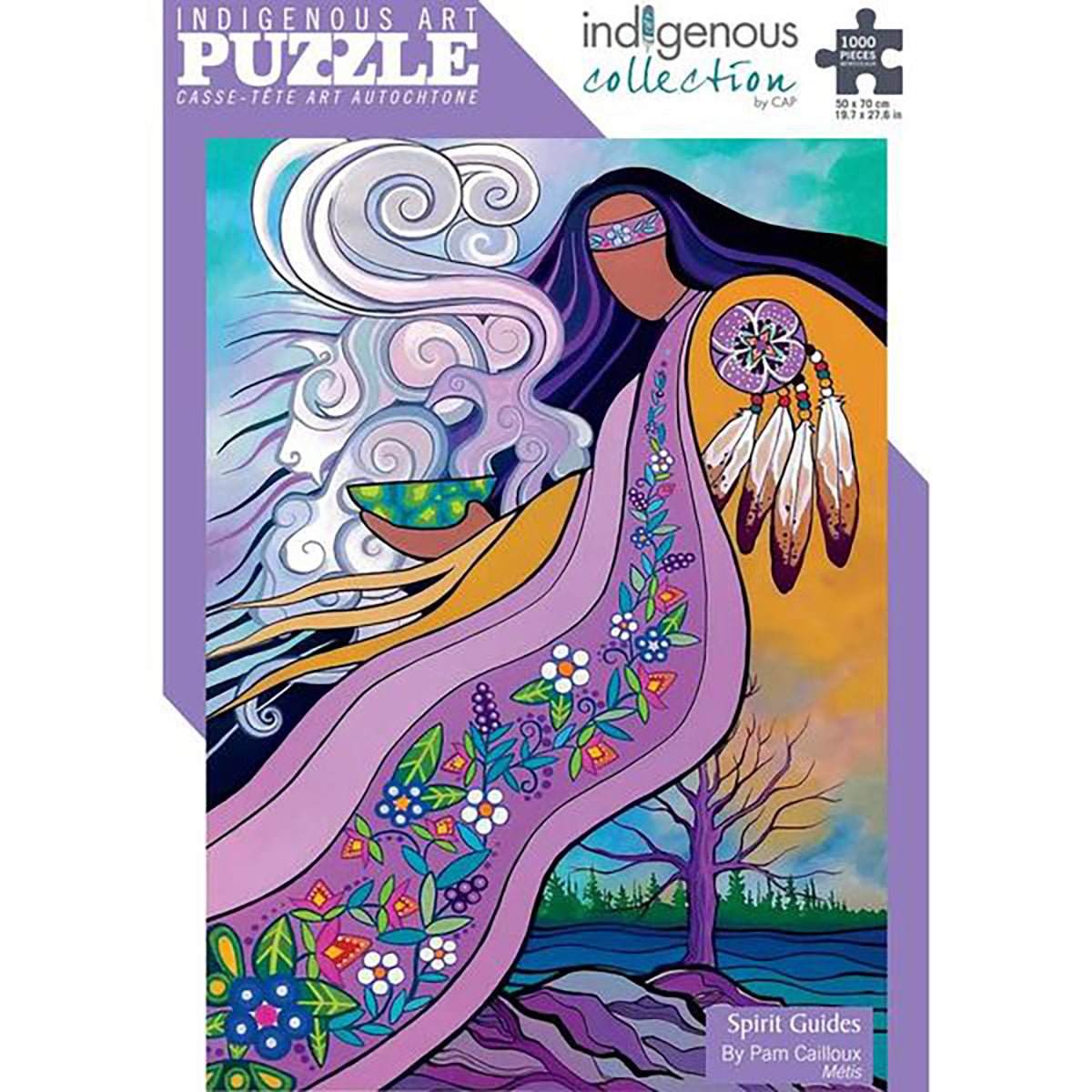 Puzzle Spirit Guides, by Pam Cailloux, 1000 Pieces, Native Canadien artwork
Spirit Guides Puzzle by Pam Cailloux, 1000 pieces
For adults and children over 6 years old.
Reproductions of Native Canadien artwork.

Image size: (18 x 24 in) 45.7 x 61.0 cm
Cultural Background: Métis (Huron and Algonquin), Québec
Pamela Cailloux was born in Chibougamau Québec. She is of Métis decent consisting of Huron and Algonquin heritage. Her artwork is heavily influenced by the teachings of the medicine wheel consisting of balance, seasons, elements and harmony. Mother earth is often represented in her works as an energy and spirit that is determined to heal and restore natural order. Pamela has been drawing all her life and the style we see today, began to take shape around 1995.
Description

Ce casse-tête de 1000 pièces offre la combinaison parfaite de défi et de divertissement pour toute la famille ! En plus d'être une source de plaisir, les puzzles jouent un rôle bénéfique dans le développement de l'enfant en favorisant des compétences telles que la concentration et la créativité. Ces activités ludiques ne sont pas réservées qu'aux plus jeunes, elles offrent également une expérience formidable pour les adultes. Que vous les réalisiez en solo pour une détente méditative ou en groupe pour des moments conviviaux, les puzzles sont une excellente manière de stimuler l'esprit et de créer des souvenirs précieux en famille.

Le nom de l'artiste, son affiliation tribale et le titre du dessin apparaissent sur le devant de la boîte.

Une redevance est consciencieusement allouée à l'artiste à chaque vente, soutenant ainsi et reconnaissant la valeur artistique et culturelle de l'art autochtone. Cette initiative contribue également à préserver et promouvoir l'héritage artistique autochtone. Cette démarche souligne l'engagement envers la préservation culturelle et l'appréciation de l'art autochtone
Dimensions

(18 x 24 in) 45.7 x 61.0 cm
Artist biography

Pam Cailloux

Contexte culturel: Métisse (d'Huron et d'Algonquin), Québec

Pamela Cailloux est née à Chibougamau au Québec. Elle est métisse d'Huron. Son art est grandement influencé par les enseignements de la roue médecine qui se compose d'équilibre, de saisons , d'éléments et d'harmonie. Terre-mère est souvent représentée dans ses œuvres comme une énergie et un esprit déterminé à guérir et à restaurer l'ordre naturel. Pamela a dessiné toute sa vie et le style que nous connaissons aujourd'hui a commencé à prendre forme en 1995.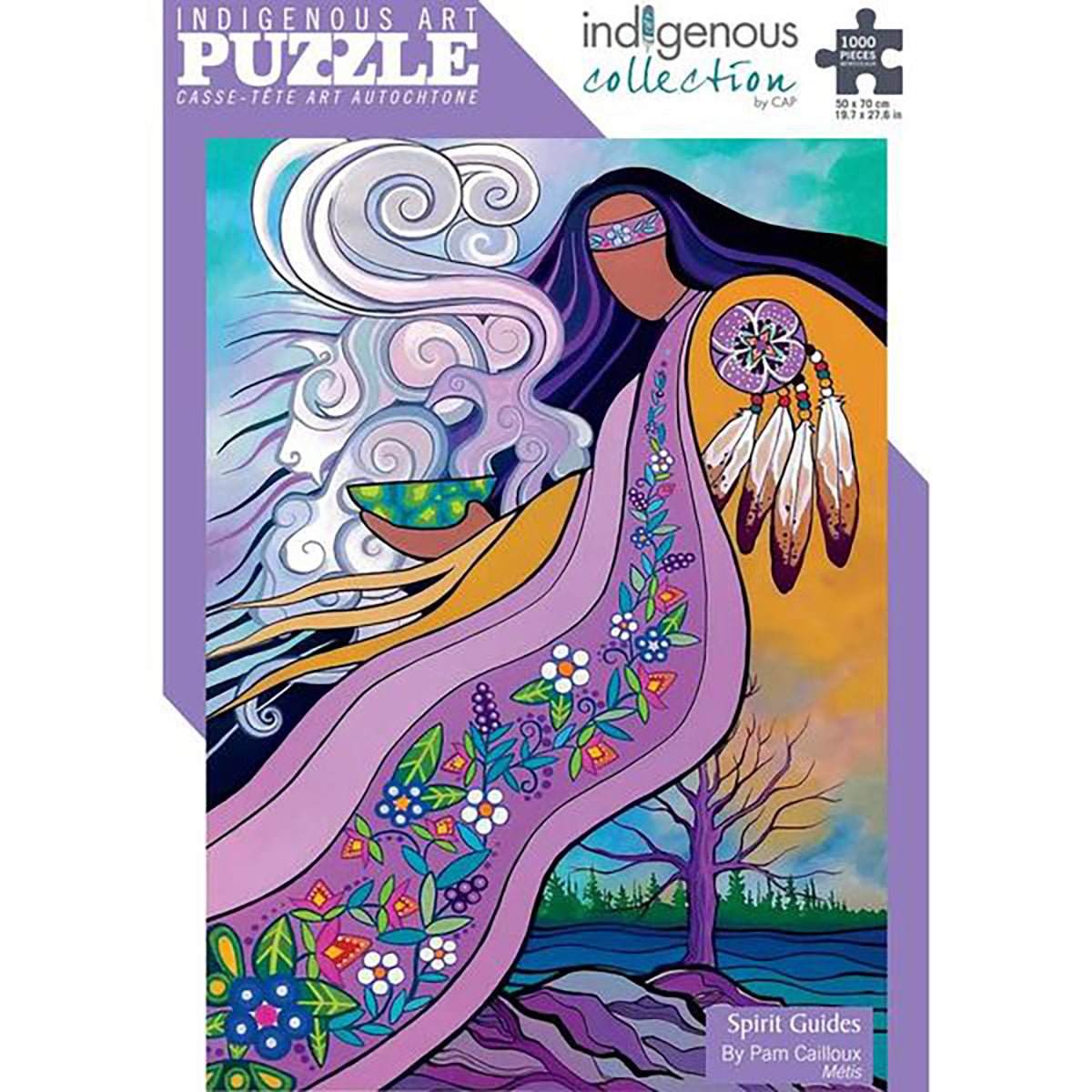 Puzzle Spirit Guides, by Pam Cailloux, 1000 Pieces, Native Canadien artwork
Sale price

$20.00
Regular price
Choose options