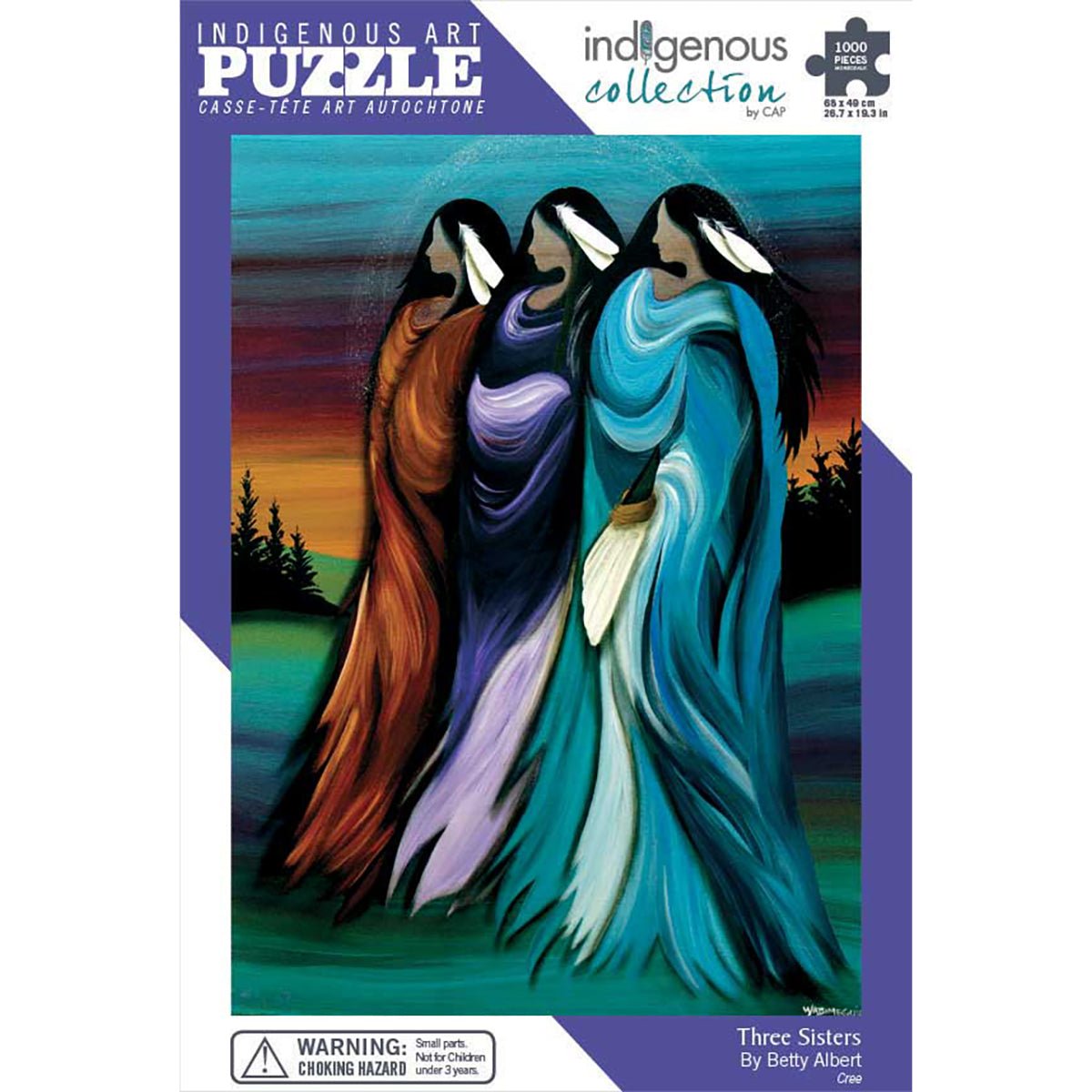 Betty Albert's 3 Sisters Puzzle 1000 pcs. Image of native artists
Betty Albert's 3 Sisters Puzzle 1000 pieces,
For adults and children 6 and older.
Reproductions of Canadian Native artwork.
Cultural Background: Cree
Betty Albert-Licenz was adopted and raised by French Canadian parents in Northern Ontario. She spent time on Vancouver Island where both of her interests in art and spirituality surfaced. During the next twenty years, she worked with pen and ink, and improved her artistic techniques.
Circumstances eventually brought her back to her Native American father, discovering her birthright as a Cree. Betty then began an art business with her father called "Wabimeguil Art Studio," which distributes art throughout North America. Like many Cree people, dreams play an important part of her life and her work. She discovered that her dream people were faceless and this is evident in some of her work. Her art allows the viewer to experience tradition, action, and a deep spirituality. Her use of vibrant acrylic colors begs us to view creation in a new way. Through her painting, "Wabimeguil (White Feather)," she expresses not only her own growth in spirituality, but also encourages people to experience "The Peace," that she represents in her art.
Description

Ce casse-tête de 1000 pièces offre la combinaison parfaite de défi et de divertissement pour toute la famille ! En plus d'être une source de plaisir, les puzzles jouent un rôle bénéfique dans le développement de l'enfant en favorisant des compétences telles que la concentration et la créativité. Ces activités ludiques ne sont pas réservées qu'aux plus jeunes, elles offrent également une expérience formidable pour les adultes. Que vous les réalisiez en solo pour une détente méditative ou en groupe pour des moments conviviaux, les puzzles sont une excellente manière de stimuler l'esprit et de créer des souvenirs précieux en famille.

Le nom de l'artiste, son affiliation tribale et le titre du dessin apparaissent sur le devant de la boîte.

Une redevance est consciencieusement allouée à l'artiste à chaque vente, soutenant ainsi et reconnaissant la valeur artistique et culturelle de l'art autochtone. Cette initiative contribue également à préserver et promouvoir l'héritage artistique autochtone. Cette démarche souligne l'engagement envers la préservation culturelle et l'appréciation de l'art autochtone
Dimensions

(18 x 24 in) 45.7 x 61.0 cm
Artist biography

Betty Albert

Origine Culturelle: Crie

Betty Albert-Licenz a été adoptée et élevée par des parents Canadiens-français du Nord de l'Ontario. Elle a passé du temps sur l'île de Vancouver où ses deux intérêts pour l'art et la spiritualité ont fait surface. Au cours des vingt années suivantes, elle travaille à la plume et à l'encre et a amélioré ses techniques artistiques.

Les circonstances l'ont finalement ramenée à son père Amérindien, découvrant son droit d'aînesse en tant que Crie. Betty a ensuite lancé une entreprise artistique avec son père appelée «Wabimeguil Art Studio», qui distribue de l'art à travers l'Amérique du Nord. Comme beaucoup de Cris, les rêves jouent un rôle important dans sa vie et son travail. Elle a découvert que son peuple de rêve était sans visage et cela est évident dans certains de ses travaux. Son art permet au spectateur de vivre la tradition, l'action et une spiritualité profonde. Son utilisation de couleurs acryliques vibrantes nous supplie de voir la création d'une manière nouvelle. À travers sa peinture, «Wabimeguil (White Feather/Plume Blanche)», elle exprime non seulement sa propre croissance spirituelle, mais encourage également les gens à découvrir «La paix», qu'elle représente dans son art.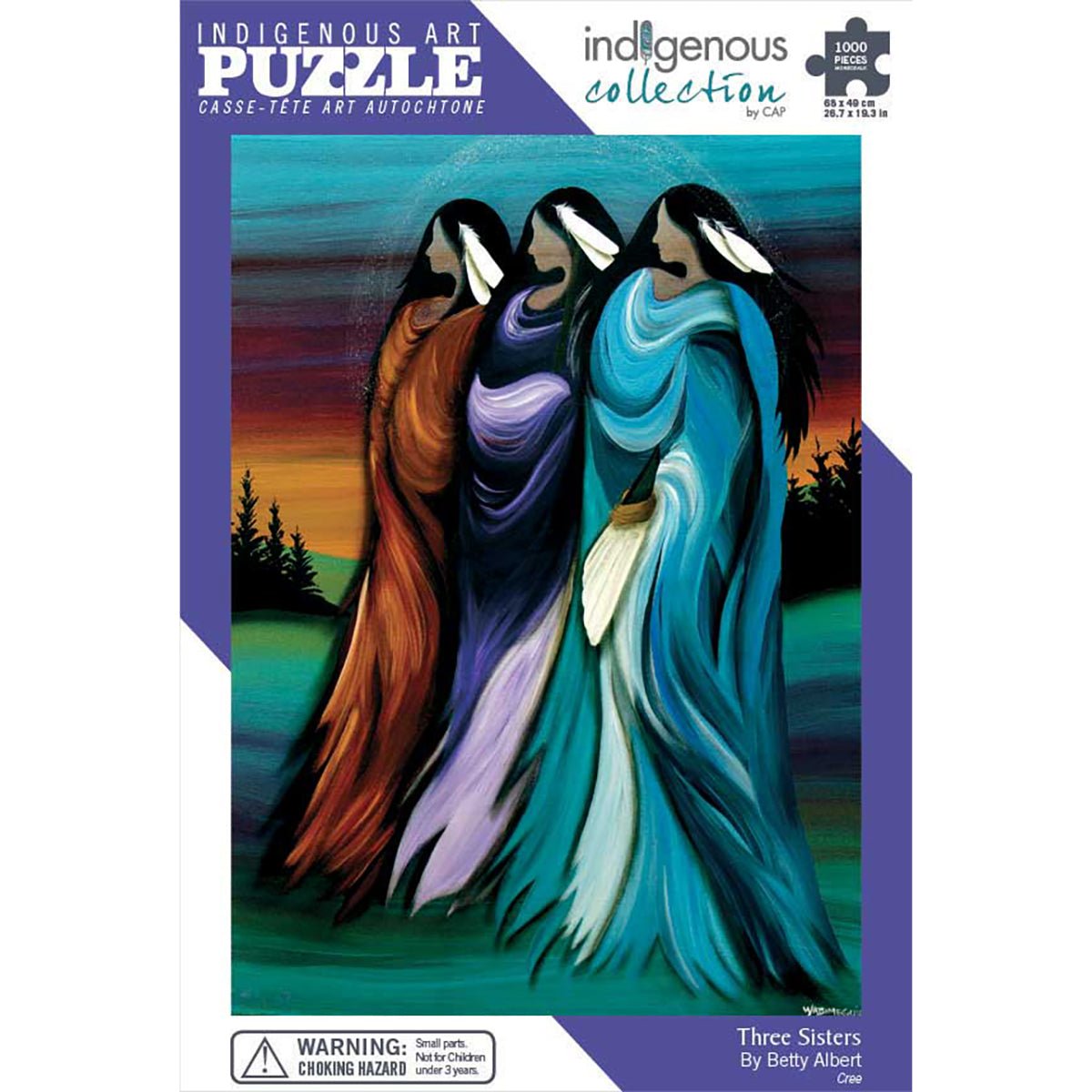 Betty Albert's 3 Sisters Puzzle 1000 pcs. Image of native artists
Sale price

$20.00
Regular price
Choose options