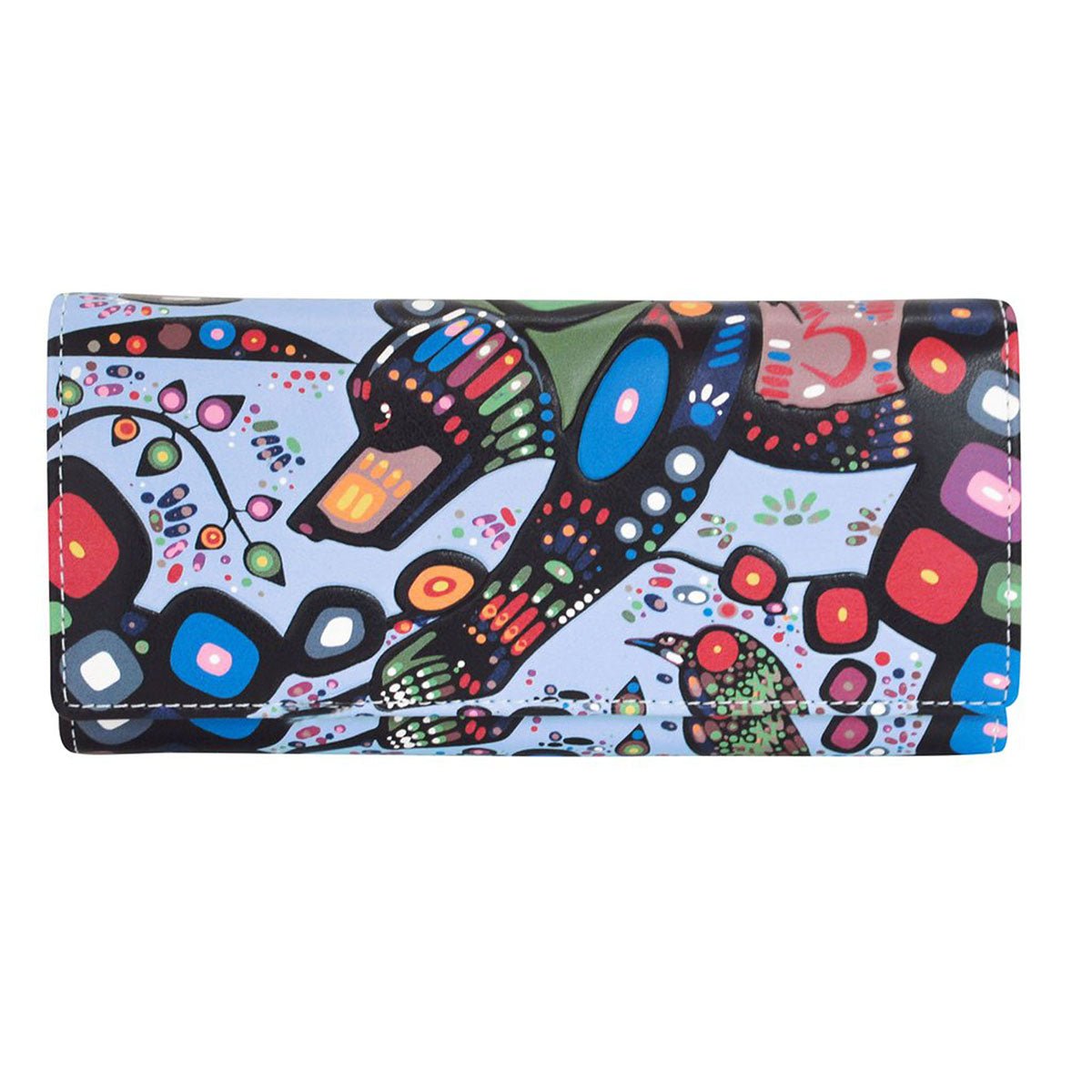 The Bear, Wallet
Designed by indigenous Chipewyan artist Dene John Rombough.
"One spring morning, the bear in his elements walks along
grandfather's
rocks.
While the Ancestors watch over the land,
the ravens welcome the bear from a long winter nap

The wallets are made of synthetic leather and measure 19x10x3 cm.
The wallet has 14 card slots,
6 pockets and a zipped coin pocket


Packaged in an elegant box with a protective pocket.




Description

Le portefeuille a 14 emplacements pour cartes,
6 poches et une poche à monnaie zippée.

Emballé dans une élégante boîte livrée avec une pochette de protection.
Artist biography

John Rombough - Artiste Déné Chipewyan
L'artiste Déné Chipewyan John Rombough est né dans la communauté isolée de Sioux Lookout, dans le nord de l'Ontario, au Canada. À l'âge de trois ans, John a été adopté par Carol et Lyall Rombough, un couple de l'Île-du-Prince-Édouard. Il attribue son intérêt précoce pour le dessin et la peinture au fait d'avoir été élevé dans leur environnement artistique et généreux.
John est un peintre forestier contemporain autodidacte. Il utilise des lignes noires soutenues et des couleurs vibrantes. Ses principaux mentors sont des artistes tels que l'Ojibwe Norval Morrisseau, le grand-père du style forestier contemporain, et ceux du "Groupe des sept autochtones".
Jeune adulte, John s'est mis à la recherche de ses parents biologiques. Il découvre son père biologique, Alfred Catholique, qui vit dans la petite communauté de Lutselk'e, sur les rives du Grand lac des Esclaves, dans les territoires vierges du Nord-Ouest canadien.
Accueilli chaleureusement par toute la famille Catholique, John a décidé de s'installer dans la communauté afin de redécouvrir son identité culturelle. Le style de peinture de John Rombough a depuis changé pour refléter l'harmonie du peuple déné avec le monde naturel. Ses dessins aborigènes modernes et distinctifs reflètent ses visions personnelles et son lien étroit avec la nature. Les peintures de John communiquent avec toutes les nations par le biais d'une interprétation visuelle et de couleurs brillamment mélangées. Son art transmet un message de compassion et de respect.
Alors que John travaille à la création de pièces originales, des chants de tambours cérémoniels traversent ses pensées, des chants qui représentent les enseignements et le mode de vie spirituel des Dénés. Les enseignements sacrés transmis par les ancêtres à travers ses visions inspirent à John un mode de vie sain et créatif, honorant les enseignements ancestraux du "respect de soi, du respect des gens et du respect de la terre".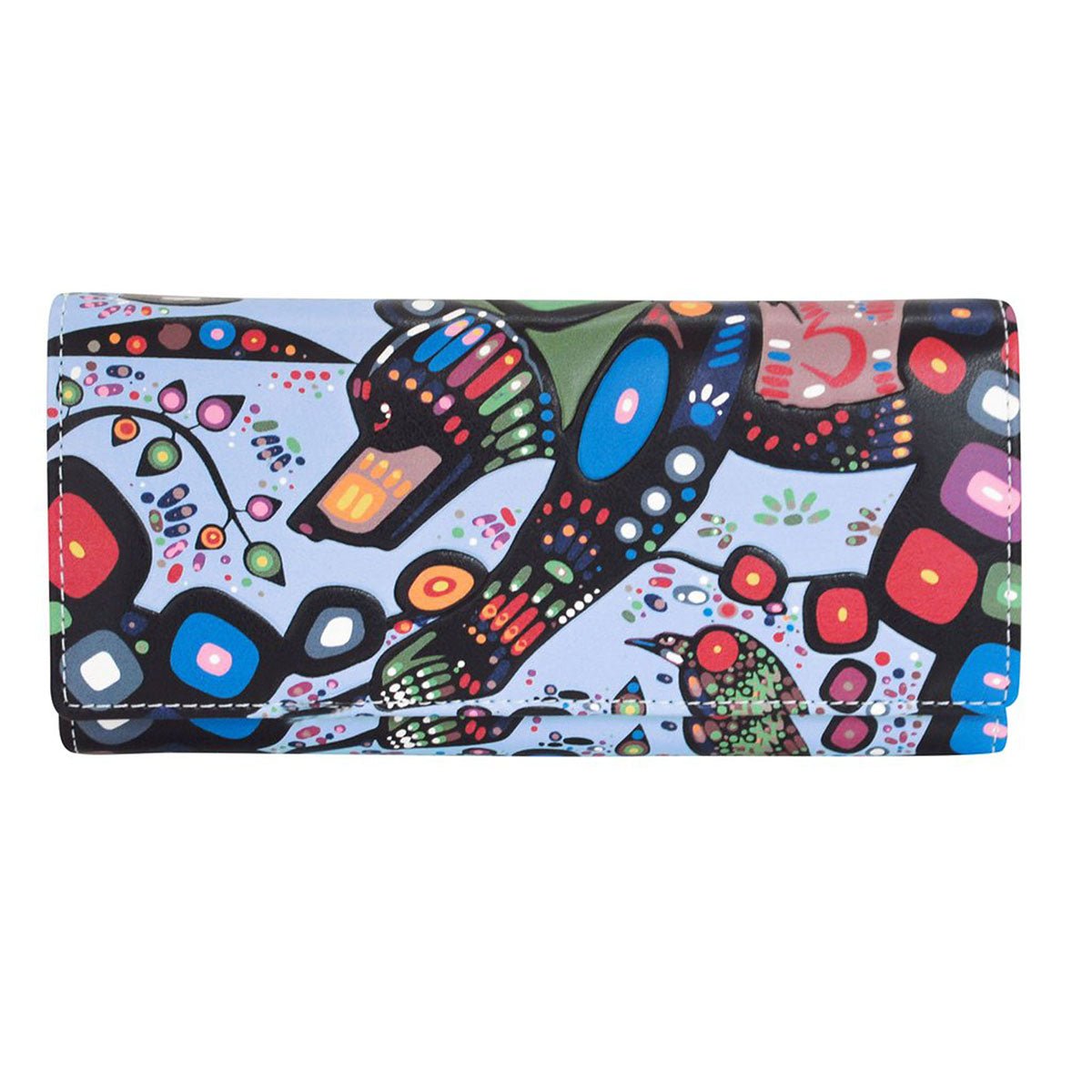 The Bear, Wallet
Sale price

$37.00
Regular price
Choose options