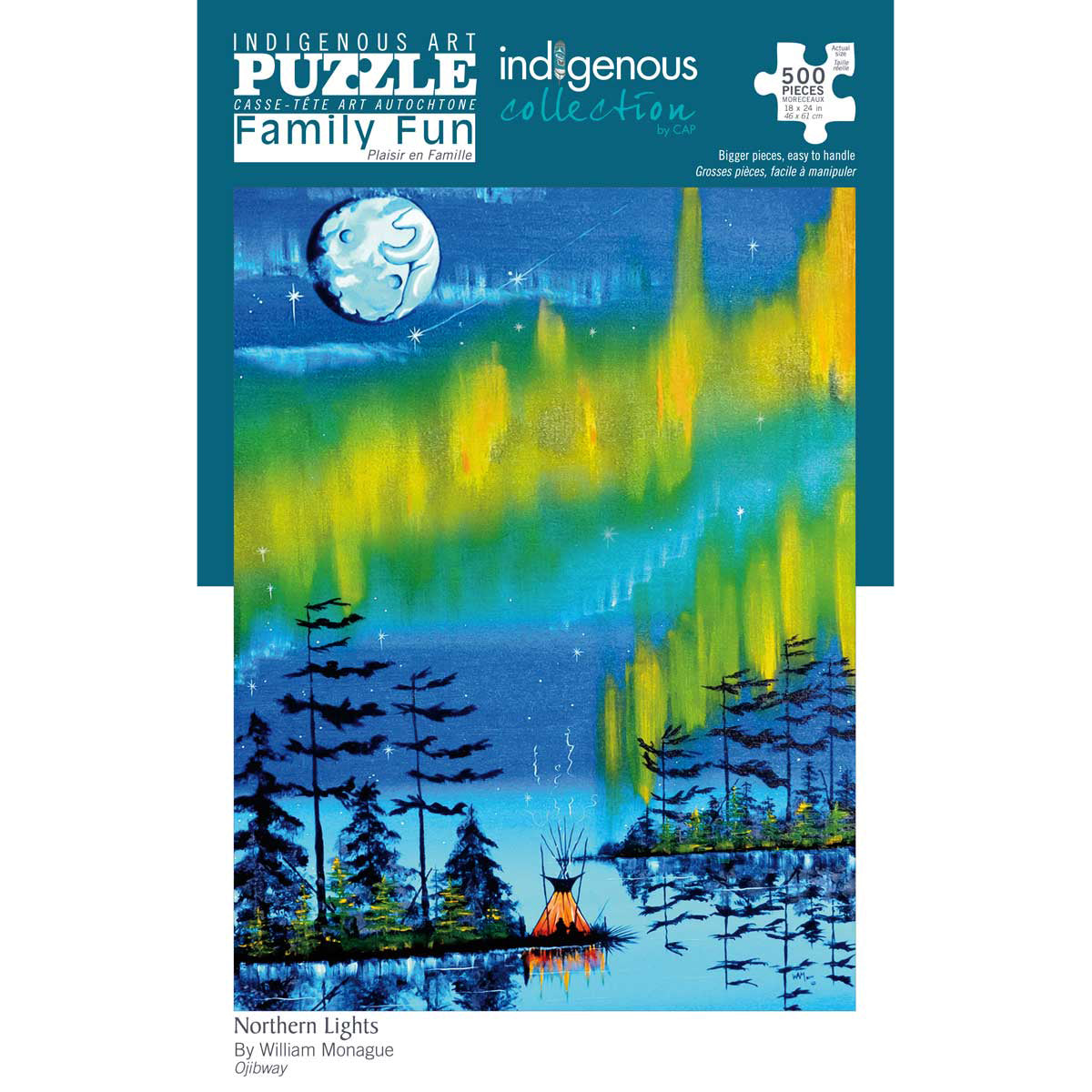 Puzzle Northern Lights, 1000 pieces, Native Canadian artwork
William Monague is an Ojibway painter who grew up on Christian Island, Georgian Bay, home of the Beausoleil First Nation People and currently resides in Midland, Ontario. The self taught artist left his Beausoliel First Nation reserve on Christian Island in the 70's and 80's travelling the Pow Wow circuit to sell native art. Soon after his three daughters Wausa, Wabie and Awasis were born, his original paintings, carvings and quill work were acquired by curators seeking native art. The Washington Museum of Fine Art, Turtle Art Gallery in New York, Royal Ontario Museum and Whetung's Art Gallery among others. During the Alberta and British Columbia shows in the 1980's William was awarded Most Unique Native Artist.
Description

Ce casse-tête de 500 pièces offre la combinaison parfaite de défi et de divertissement pour toute la famille ! En plus d'être une source de plaisir, les puzzles jouent un rôle bénéfique dans le développement de l'enfant en favorisant des compétences telles que la concentration et la créativité. Ces activités ludiques ne sont pas réservées qu'aux plus jeunes, elles offrent également une expérience formidable pour les adultes. Que vous les réalisiez en solo pour une détente méditative ou en groupe pour des moments conviviaux, les puzzles sont une excellente manière de stimuler l'esprit et de créer des souvenirs précieux en famille.

Une redevance est consciencieusement allouée à l'artiste à chaque vente, soutenant ainsi et reconnaissant la valeur artistique et culturelle de l'art autochtone. Cette initiative contribue également à préserver et promouvoir l'héritage artistique autochtone. Cette démarche souligne l'engagement envers la préservation culturelle et l'appréciation de l'art autochtone
Dimensions

Taille de l'image : (18 x 24 in) 45.7 x 61.0 cm
Artist biography

William Monague

Origine Culturelle: Ojibwé – île aux Chrétiens, extrémité sud de la baie Géorgienne, en Ontario

L'artiste autodidacte originaire de la Première Nation de Beausoleil, William Anthony Monague, a grandi sur une île isolée sans accès à une éducation ou une formation artistique formelle. Monague dit « Abwaudung » (le Visionnaire ou le Rêveur) a puisé son inspiration dans les enseignements traditionnels de la Terre nourricière, du Monde spirituel, dans la beauté de la nature et sur les rives de la baie Géorgienne qui l'entouraient. À ses débuts, le bois constituait son matériau de choix, mais très vite il a développé son propre style artistique plus contemporain. Au cours des années 1970 et 1980, Monague a suivi le circuit des Pow Wow avec sa famille dans une fourgonnette jusqu'au Mexique. Ses œuvres ont garni les vitrines des musées et des galeries au fil des années. Monague consacre de son temps et ses œuvres d'art à de nombreuses causes nobles et apporte de l'assistance à plus d'un. « J'estime que mon art reflète ma culture. Ma réputation, je la dois à mon travail. L'acquisition de cette dernière ne s'est pas faite en un jour. » Après 45 ans dans la peinture, il continue son aventure artistique de toute une vie aux côtés de sa famille.

« Promouvoir la culture Anishnabek à travers l'esprit de la couleur »

Son atelier de dessin est situé dans sa résidence familiale centenaire du centre-ville de Midland, en Ontario à quelques encablures de la baie Géorgienne.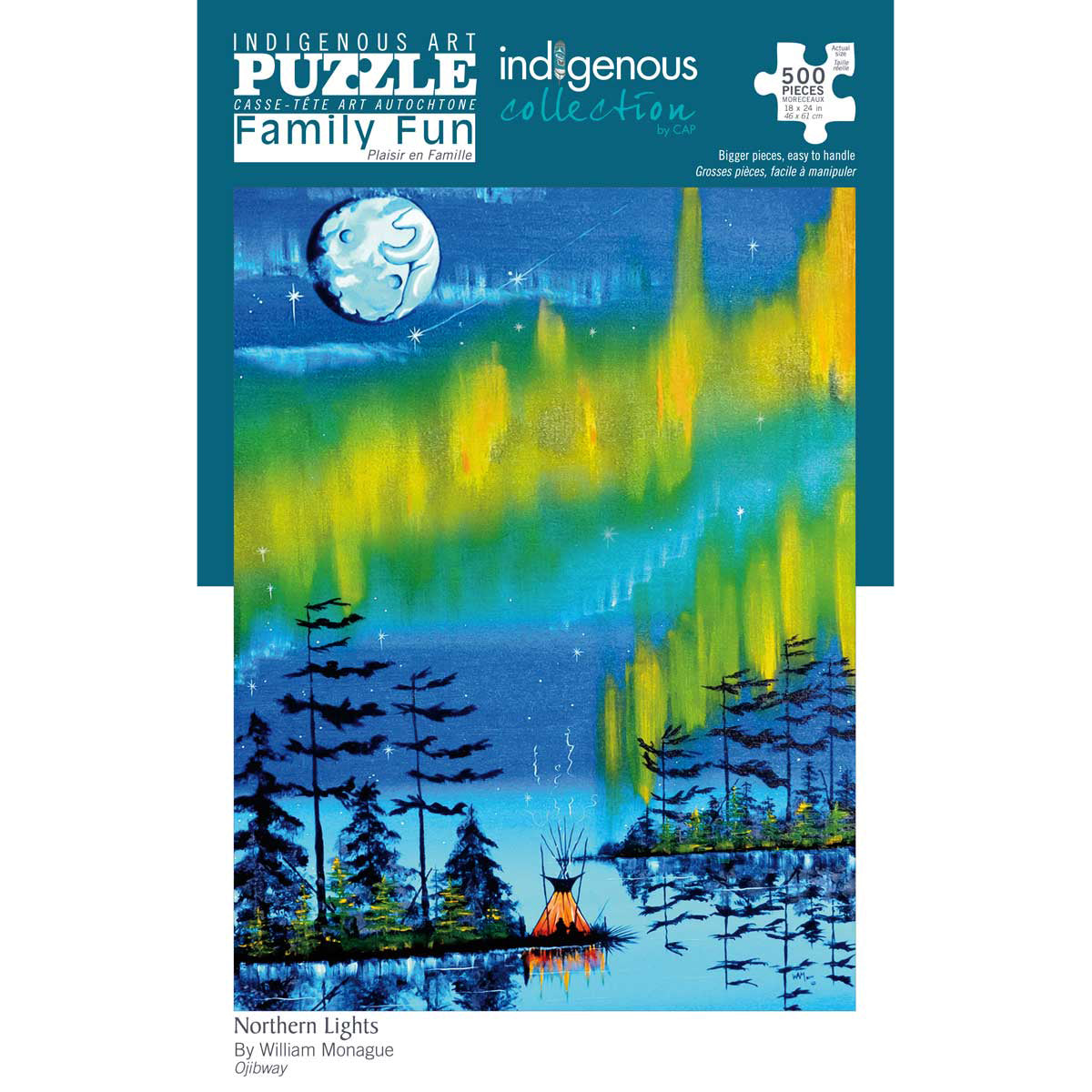 Puzzle Northern Lights, 1000 pieces, Native Canadian artwork
Sale price

$20.00
Regular price
Choose options