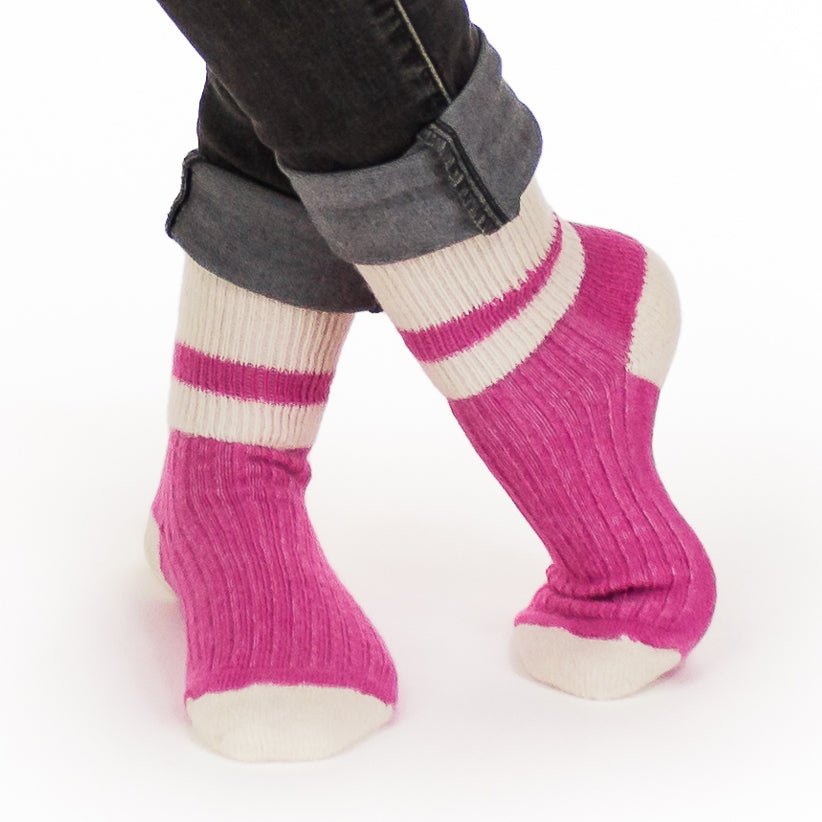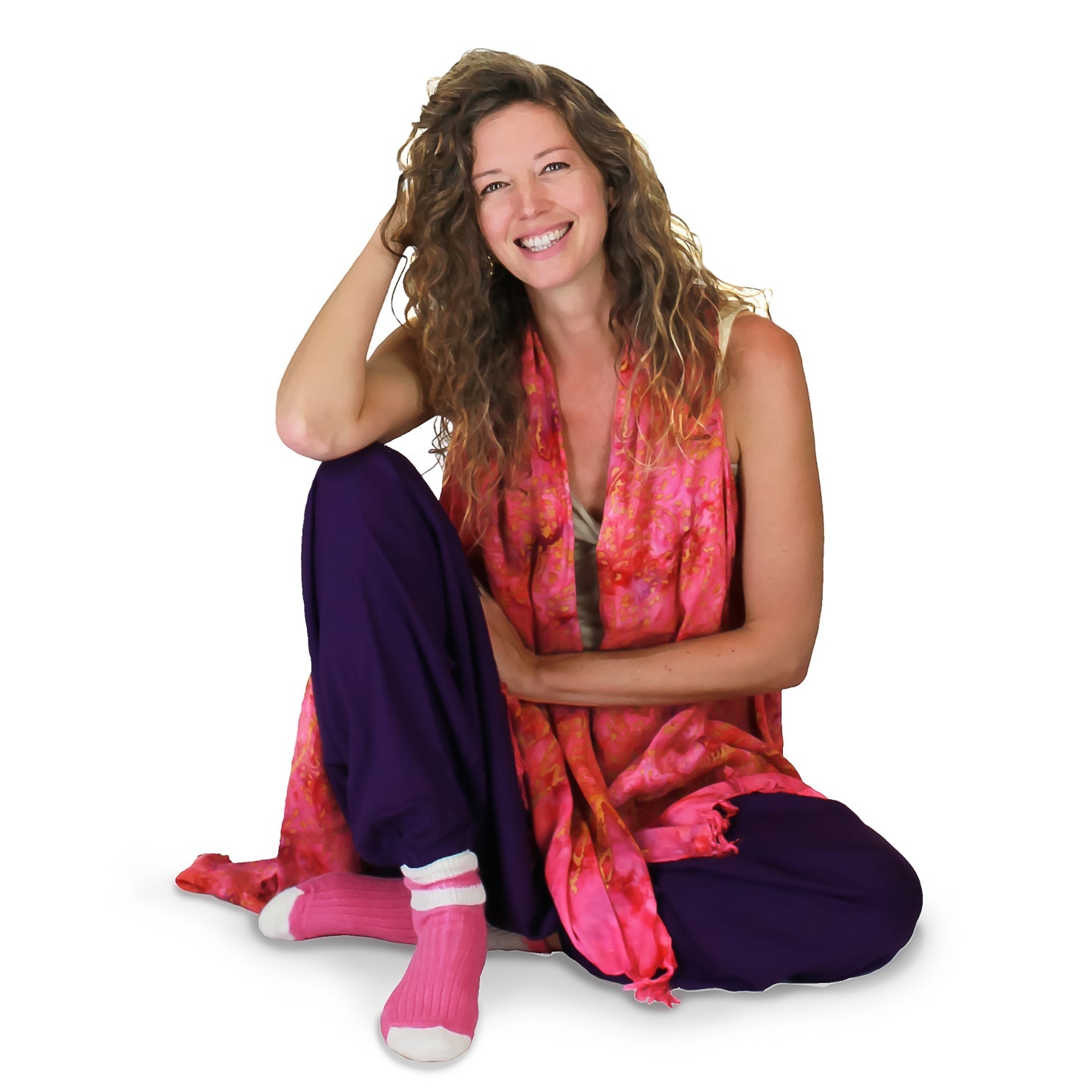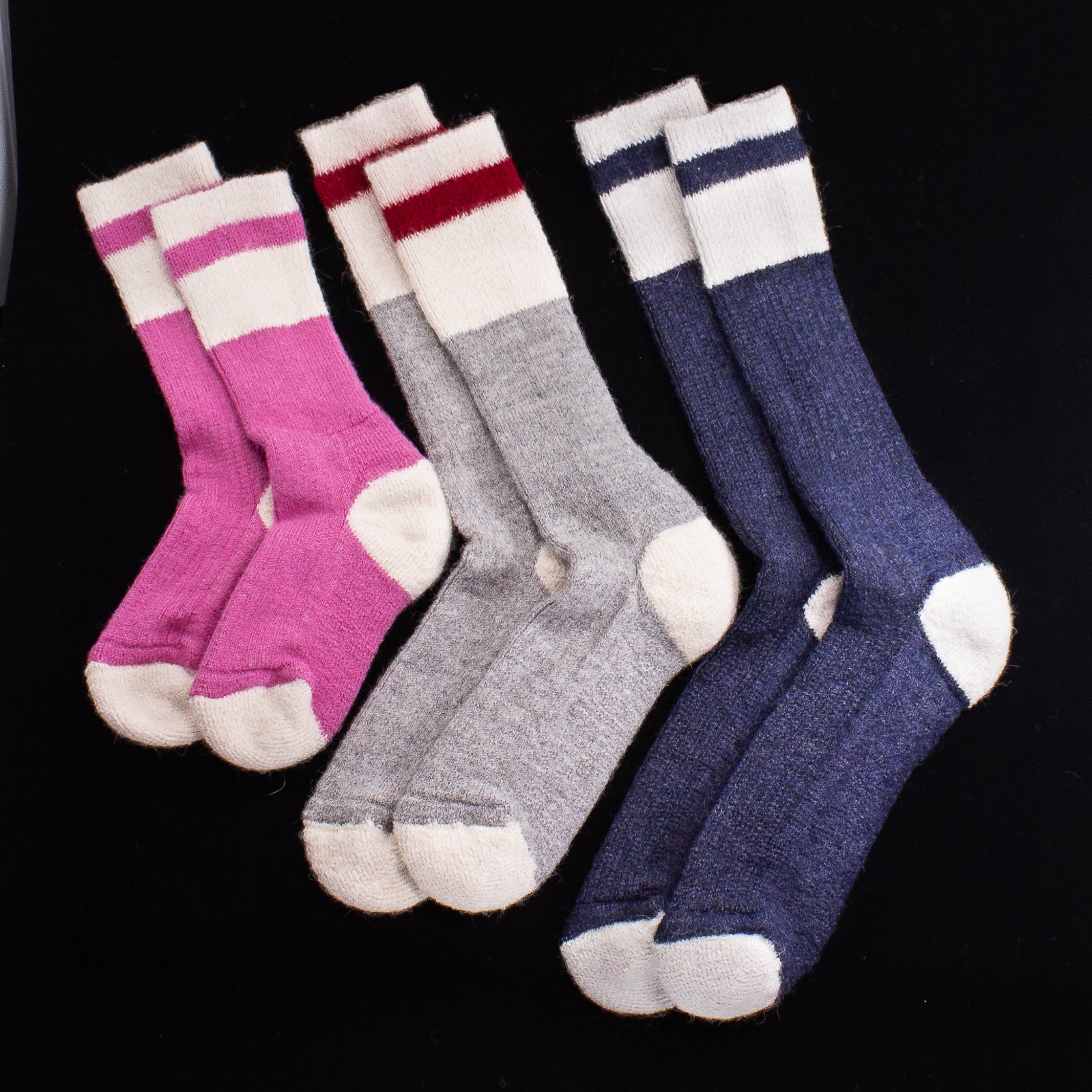 Alpaca wool socks Tradition ROSE
Traditional look, alpaca wool socks!
These socks are ideal for outdoor activities such as: snowmobiling, hiking, snowshoeing, hunting, ice fishing, sliding sports, skating..
Composition: 80% alpaga, 18% acrylic, 2% elastane.
Curly sole on the inside of the sock
The natural properties of alpaca fiber will keep your feet dry and warm. Care: wash in cold water and dry flat.
They will keep their shape thanks to the acrylic and elastane. The toes and heels have been reinforced for extra durability.
Size for women and men
Women
:M = shoe 5.5 - 9.5L
= shoe 10 - 12.5
Men:
M = shoe 6 - 8.5
L = shoe 9 - 10.5
XL= shoe 11 and +

Children 5-8 years old
Alpaca fibre surpasses its competitors in terms of body heat conservation. Even for thinner socks, alpaca wool retains heat thanks to its hollow fiber that retains air in the center and thus insulates the foot.
Synthetic fibres, such as acrylic micro-fibres, also provide superior moisture transfer, a winning solution when combined with alpaca fibre. Alpaca socks that are curled on the inside are thicker and warmer because their curls capture air, providing warmth and insulation against the cold. Socks made with a combination of these natural and synthetic fibers, as well as Terry construction, offer the best protection against the cold.
The alpaca socks are of Quebec design and superior quality. During their manufacturing process, they use a greater quantity (weight) of alpaca fiber than any other alpaca socks currently available on the market.
They keep their shape thanks to the acrylic and elastane. The toes and heels have been reinforced for extra durability.
Description

Ces bas en alpaga sont conçus pour offrir une chaleur optimale grâce à la fibre d'alpaga, qui surpassent ses concurrents en termes de conservation de la chaleur corporelle.
La fibre creuse de l'alpaga retient l'air au centre, assurant une isolation efficace pour garder les pieds au chaud.
De plus, les fibres synthétiques comme les microfibres d'acrylique fournissent un transfert d'humidité supérieur, particulièrement efficace lorsqu'elles sont combinées avec la fibre d'alpaga, offrant ainsi une protection accrue contre le froid.

Ces bas, de conception québécoise, sont fabriqués avec un pourcentage plus élevé de fibres d'alpaga par rapport à d'autres produits disponibles sur le marché. Cela garantit une qualité supérieure et une performance thermique exceptionnelle.
De plus, grâce à l'utilisation d'acrylique et d'élasthanne dans leur fabrication, ces bas en alpaga ne se déforment pas, ce qui les rend plus durables. Les renforcements au niveau des bouts des orteils et des talons contribuent également à augmenter leur résistance et leur longévité.
Size

Femme:
M = soulier 5.5 – 9.5
L = soulier 10 – 12.5

Homme:
M = soulier 6 – 8.5
L = soulier 9 – 10.5
XL= soulier 11 et +

Petit= enfants de 5-8 ans

Enfants=enfants de 4-6 ans
Composition

Composition : 80% alpaga, 18% acrylique, 2% élasthanne.
Care

Laver à l'eau froide et sécher à plat.

Ils ne se déforment pas grâce à l'acrylique et à l'élasthanne. Plus durables, le bout des orteils et les talons ont été renforcés.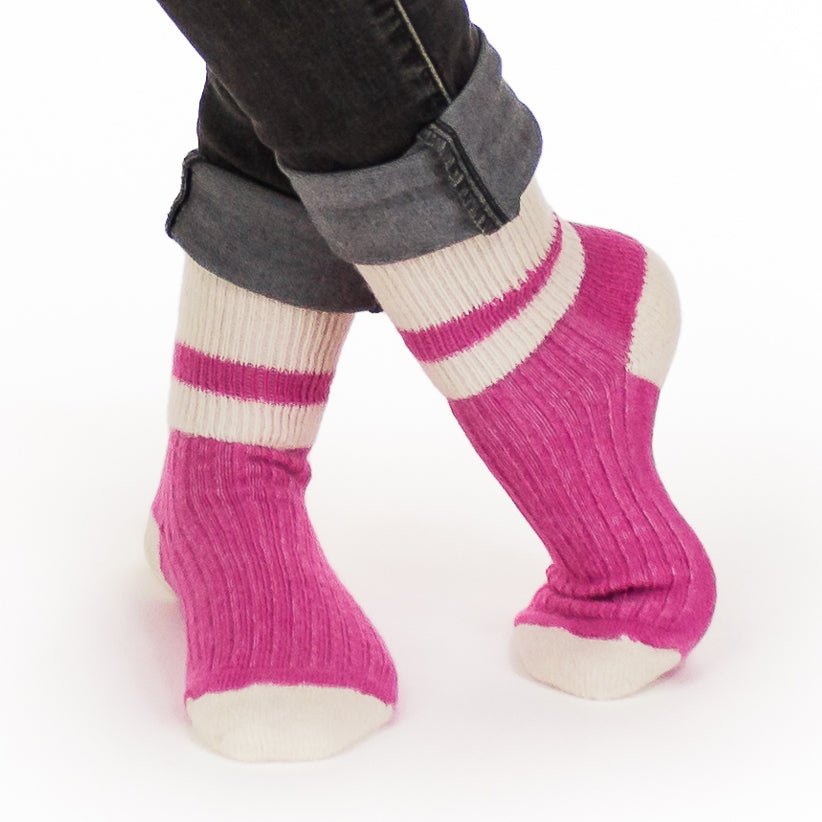 Alpaca wool socks Tradition ROSE
Sale price

$26.00
Regular price
Choose options