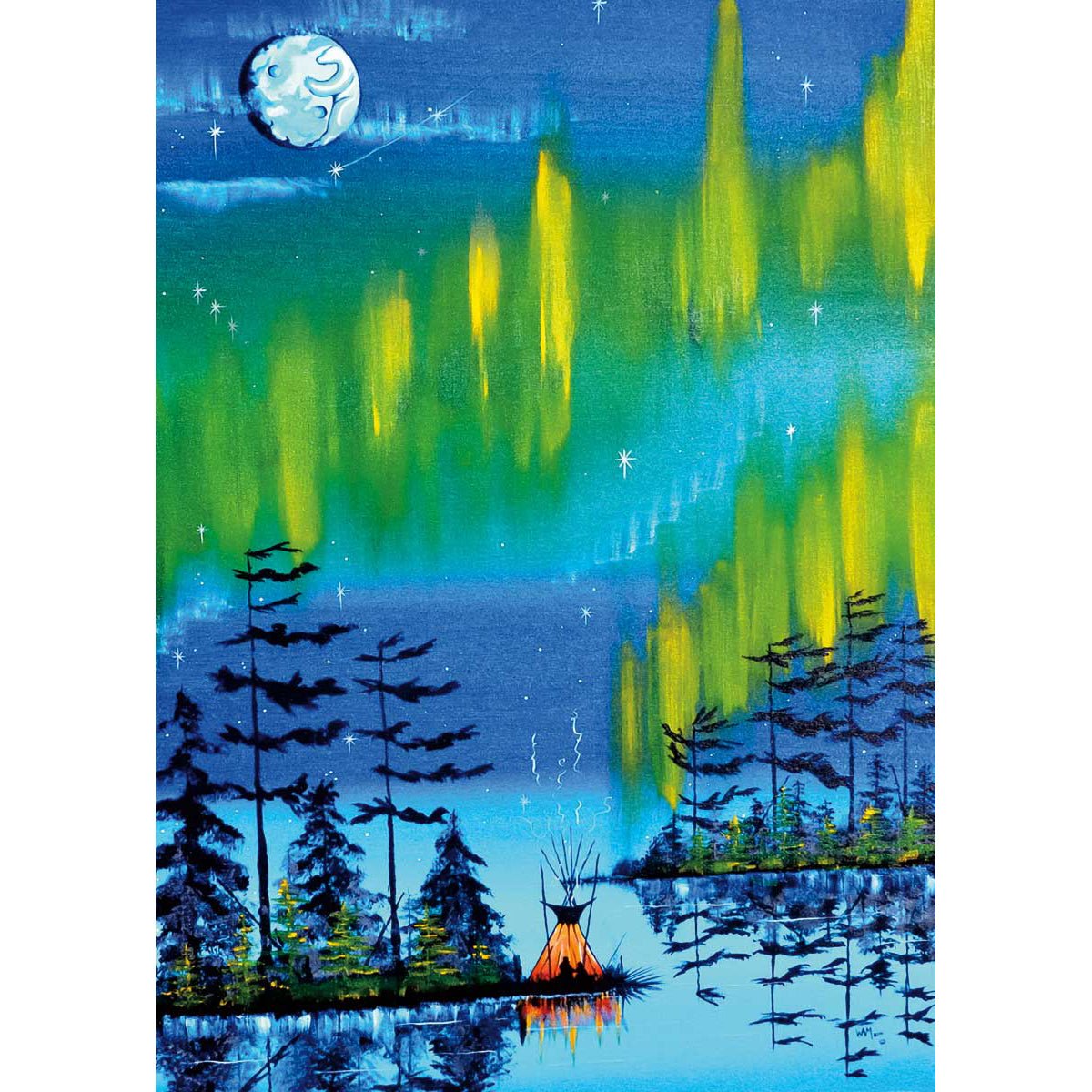 Eclipse with the Spirit of the Wolf, Greeting Cards
Eclipse with the Spirit of the Wolf
6 x 9"
Artist's biography
Rick Beaver

Cultural Origin: Mississauga Ojibway of Rice Lake, Ontario
Rick Beaver was born in 1948 on the Alderville Indian Reserve on Rice Lake in southern Ontario. His degree in Wilderness Biology greatly influenced his paintings, when he devoted himself full-time to it in 1981. His art expresses an emotional response that goes back to the origin of man on earth.
By combining art and nature, Rick's works show us contrasts of a definite structure. The backgrounds are slightly blurred and melodious compared to the graphic precision of the creature he has chosen to represent. This melting of forms, which remain faithful to biology, together with abstract backgrounds, is the essence of Rick Beaver's paintings.
AUTHENTICALLY Native. The art cards have the artist's biography printed on the back of the card. The artist or copyright holder has been paid a royalty for the sale of this product
Printed and made in Canada.
Description

Authentiquement Autochtone.
Livré avec une enveloppe.

La description de l'œuvre et la biographie de l'artiste sont imprimées à l'arrière de la carte.
L'artiste ou celui qui détient le copyright à été payé une royauté pour la vente de ce produit.

Imprimé et fait au Canada.

Composition

Les cartes d'art sont imprimées sur du papier recyclé.
Artist biography

William Monague

Origine Culturelle: Ojibwé – île aux Chrétiens, extrémité sud de la baie Géorgienne, en Ontario

L'artiste autodidacte originaire de la Première Nation de Beausoleil, William Anthony Monague, a grandi sur une île isolée sans accès à une éducation ou une formation artistique formelle. Monague dit « Abwaudung » (le Visionnaire ou le Rêveur) a puisé son inspiration dans les enseignements traditionnels de la Terre nourricière, du Monde spirituel, dans la beauté de la nature et sur les rives de la baie Géorgienne qui l'entouraient. À ses débuts, le bois constituait son matériau de choix, mais très vite il a développé son propre style artistique plus contemporain. Au cours des années 1970 et 1980, Monague a suivi le circuit des Pow Wow avec sa famille dans une fourgonnette jusqu'au Mexique. Ses œuvres ont garni les vitrines des musées et des galeries au fil des années. Monague consacre de son temps et ses œuvres d'art à de nombreuses causes nobles et apporte de l'assistance à plus d'un. « J'estime que mon art reflète ma culture. Ma réputation, je la dois à mon travail. L'acquisition de cette dernière ne s'est pas faite en un jour. » Après 45 ans dans la peinture, il continue son aventure artistique de toute une vie aux côtés de sa famille.

« Promouvoir la culture Anishnabek à travers l'esprit de la couleur »

Son atelier de dessin est situé dans sa résidence familiale centenaire du centre-ville de Midland, en Ontario à quelques encablures de la baie Géorgienne.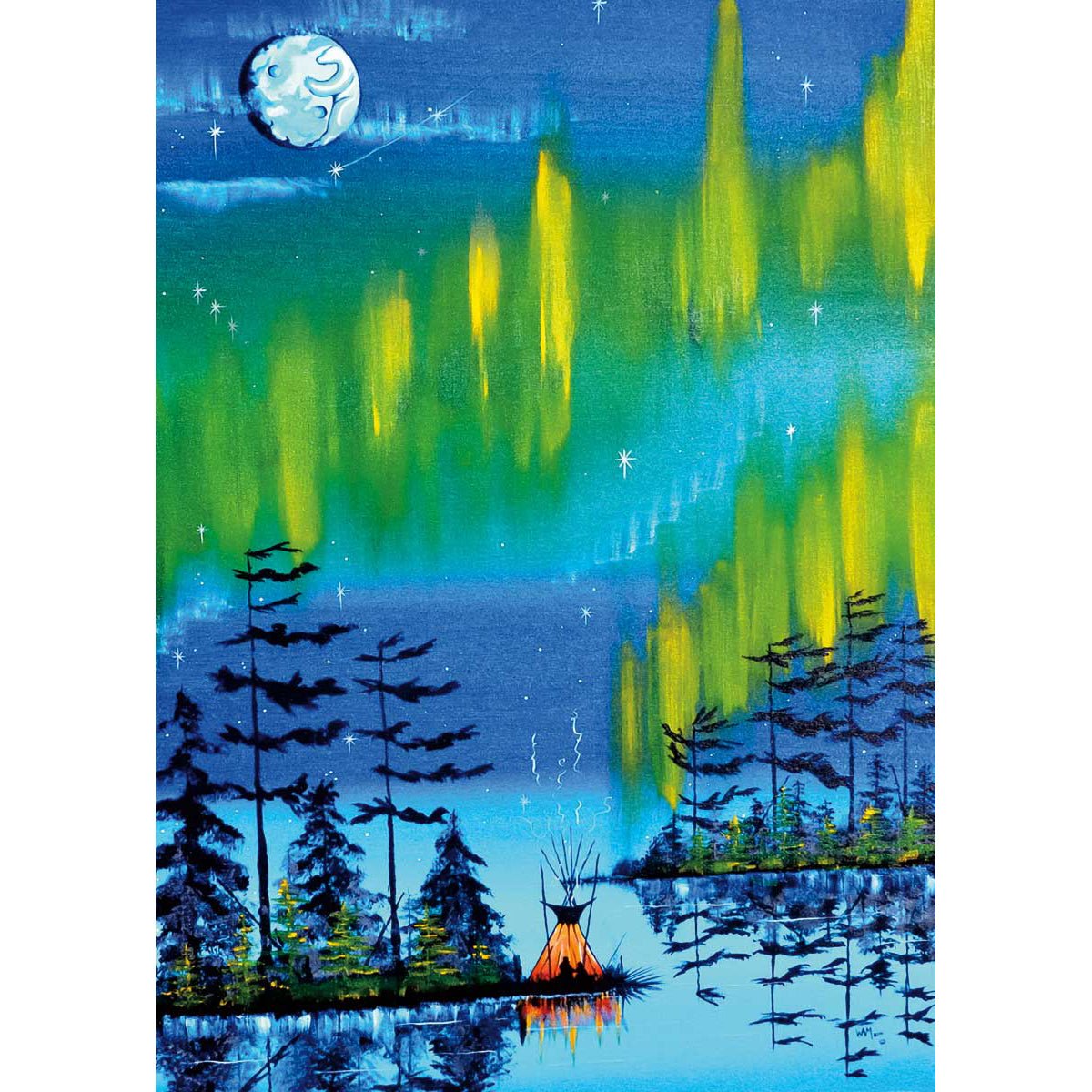 Eclipse with the Spirit of the Wolf, Greeting Cards
Sale price

$6.00
Regular price
Choose options